Traditional methods of national security fail to address "extraterritorial security" and the context of global authoritarianism and kleptocracy in which it emerges.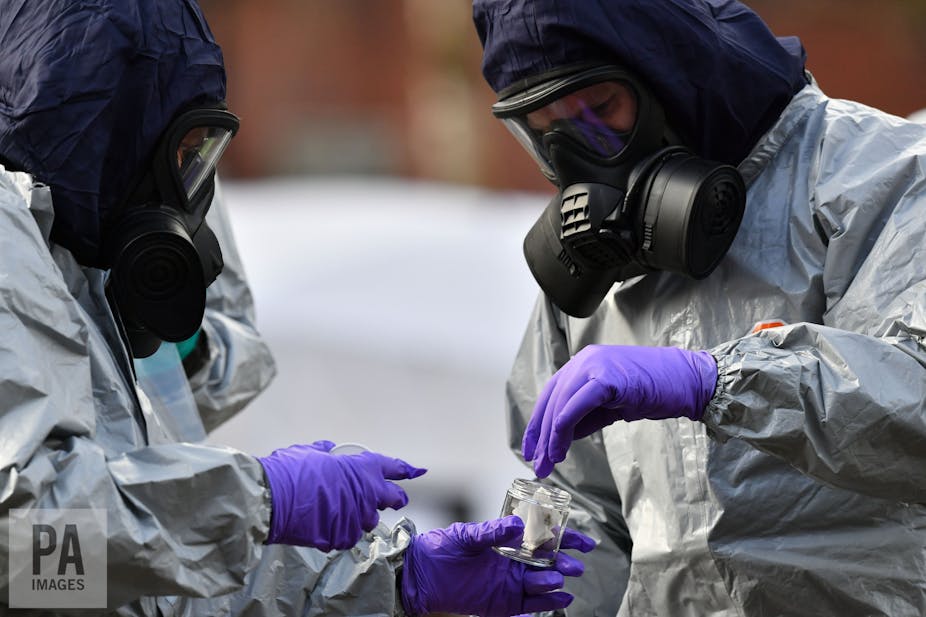 (photo ©PA Images)
The attempted assassination of Sergey Skripal and his daughter with a sophisticated nerve agent appears to be an act of aggression by the Russian government. After a period of shock and anger, we have now entered what may be an inconclusive debate about the precise nature of Russian state involvement and whether this can be proved.
Assassinations of exiles overseas are nothing new. It has also long been known Russia is a country in which the state, business and crime are intertwined around ruling and kleptocratic elites. In this light, disconnecting the Russian state from its oligarch allies or loyal criminal bosses (vory) is difficult in that the power of each of these groups is produced via their relations with the others. In short, the Russian state gets things done through its loyal oligarchs and vory, and vice-versa. This phenomenon also extends beyond Russia. Authoritarian states operate in a world of globalisation, where populations are mobile and communications and capital easily cross borders. Controlling their population outside their borders becomes increasingly important for countries such as China, Russia or Turkey.
The UK has for many years played host to a series of practices of extraterritorial security against Russian exiles and UK citizens. This is not merely a matter of the long delays on the Alexander Litvinenko case, or the failure to fully investigate up to 14 suspicious deaths in the period since 2006. It is a product of a global political environment in which the use of force by foreign states or associated non-state actors within the territory of another country appears to be increasing, and even used routinely and successfully by the supposed "weak states" of Central Asia.
What these states share is an environment where business takes place at least partly according to patronage relations, money has been laundered into UK assets, organised crime plays a role, and coercion and violence are just beneath the surface. Aspects of kleptocracy — what Alena Ledeneva describesin the Russian case as the "informal means of execution of power and decision-making outside of formal procedures" — are extended into spaces beyond the home country. It is in this context that extraterritorial security is enacted whether in the UK or in other states which play host to exiles and foreign organised crime.
Extraterritorial security is not new, but the Putin-era context which is conducive to it has apparently emboldened the Russian government to take such measures against western governments with whom it has hostile relations. The Central Asian Political Exiles project at the University of Exeter has built a database of how post-Soviet Central Asian states, which continue to model their security services on those of Russia, take extraterritorial measures against their exiles in other post-Soviet states, Turkey and in the west.
The practice of "extraterritorial security" arises when governments who face overseas and/or exiled political opponents decide that they must track down these opponents overseas. As such, US-led renditions programmes under the war on terror and the use of a network of detentions centres including Guantanamo Bay may be considered examples.
However, extraterritorial security is far more habitual by authoritarian regimes. These governments seek control not just of their own territories, but any spaces where their political opponents and co-ethnic diaspora are found. The logic for this is compelling, from their perspective. Russia and increasingly Turkey serve these functions with respect to the Central Asian states. Indeed, the Russian Federation is the host for around half of the Central Asian exiles in our database.
Our analysis of extraterritorial security practices in the CAPE database suggests that these practices accumulate over time through three phases.
Exiles are: 1) Put on notice, which includes informal warnings and threats to individuals and intimidation of family members and formal arrest warrants, including Interpol notices, and extradition requests; 2) Subject to arrest and/or detention, which includes short-term and long-term periods of detention ordered by courts and irregular detention and detention without charge, and conviction to serve a sentence at home; 3) Victims of forcible return and/or attack, which includes a formal extradition to face torture and imprisonment, informal rendition often following release from detention, disappearance, assassination and serious attacks with an attempt to murder or disable.
Over 70% of the cases on the Central Asian Political Exiles database are at stages one and two. However, there is almost certainly a massive under-counting of stage one cases as these are rarely reported in the media and many Interpol arrest warrants and "diffusions" do not appear on their public database. In the UK, Russian political exiles frequently report stage one extraterritorial security measures being taken against them. Indeed, the very fact that they are living in a country which also hosts powerful, pro-regime business persons linked to the state would put them on guard
In some high-profile cases, like that of Litvinenko and Skripal, where exiles are in supposedly "safe" countries and may even be protected by the foreign government, the process of escalation can move rapidly from stage one straight to an assassination attempt at stage three. Cases such as Litvinenko and Skripal (UK, 2006 and 2018), the 2012 attempt on the Uzbek cleric Obid-khon Sobitkhony Nazarov in Sweden, the 2015 killing of the Tajik oppositionist Umarali Kuvatov in Turkey, and countless cases in Russia itself (including 18 suspected cases from the Central Asian republics of Uzbekistan and Tajikistan between 2011 and 2016 alone) are all possible examples of this phenomenon.
Among western democracies, the UK seems unusually vulnerable to Russian extraterritorial security. For the duration of the Putin era, the UK has been open to Russian-laundered money, Russian political exiles and pro-Kremlin oligarchs. Given that so much violence has taken place both with regard to business and internal security in Russia since the end of the Soviet Union, we should not be surprised that this violence has spilled into the UK and has escalated into a diplomatic crisis between the two countries.
 However, the conventional techniques of international politics (such as expelling diplomats) are insufficient to counter the phenomenon of extraterritorial security. The Metropolitan Police, National Crime Agency and MI5 probably need special units to counter Russian dirty money in the UK, investigate Russian state-crime networks, and bring the cases of suspicious deaths of Russian exiles and their associates to court. But even sophisticated and more aggressive policing is inadequate.
Unexplained Wealth Orders are a new device that potentially offer an opportunity to aggressively target illegally-acquired assets and tackle the economic context of these security threats. The UK is home to some of the best NGOs and investigative journalists working on these issues, including Global Witness and the London offices of Transparency International, as well as Tom Burgis and Oliver Bullough. Their freedom of information submissions and other requests should henceforth be granted with greater speed and abundance as it is their work which can hold corrupt, pro-regime exiles to account.
A UK version of the Magnitsky Act is now in the offing and may help to target individuals involved in human rights abuses and extra-territorial security. The purpose of such initiatives should be not only to challenge individuals involved in money-laundering and transnational security threats, but also to provide safe haven to those Russians who are offered asylum in the UK, and to make them more secure against the machinations of pro-regime exiles.
As sensible commentators have noted, the UK has few short-term options due to British weakness in the era of Brexit and austerity. But the attack against the Skripals is a wake-up call for a government that has seemingly failed to protect exiles against the threats emerging from extraterritorial security practices. It is in this context of prior failure to tackle Russian extraterritorial security in the UK, that the "robust" British response must be understood.
In terms of political exiles, it is now time to sort the wheat from the chaff.
This article appeared first in Open Democracy on 21 March 2018